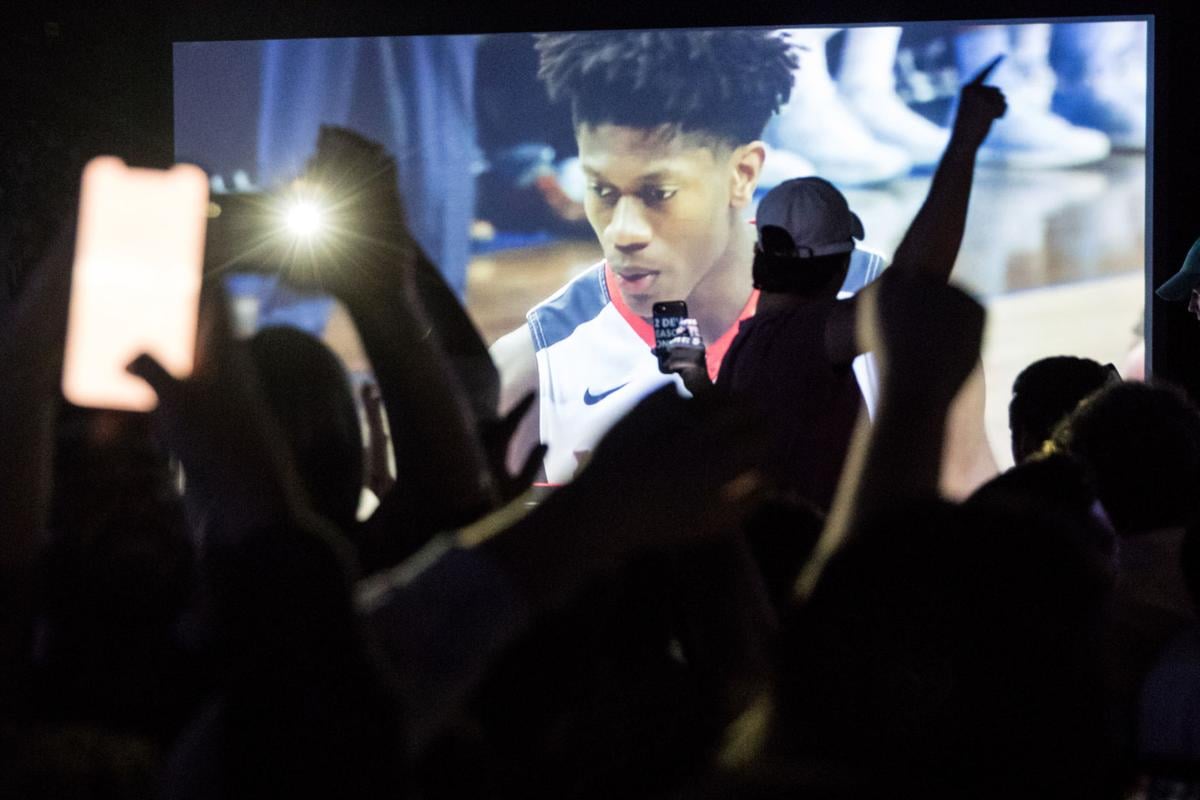 Adharsh McCabe has 30 years of experience running businesses and training exotic performance animals. The 48-year-old manager of Boylan Heights on The Corner even earned a degree — an actual degree, he swears — in predicting and managing "primal behavior" from the Institute of Greatly Endangered and Rare Species in Myrtle Beach, South Carolina.
However, nothing prepared McCabe for the sight of hundreds of non-schooling acanthocybium solandri(otherwise known as the wahoo fish) during the ACC Tournament championship game Saturday night, which fell during the University of Virginia's spring break.
"We were at about 60 percent capacity until about 10 minutes before tip-off," he said Monday. "And then all of a sudden, hundreds and hundreds of people came in at once. It took three security guards just to clear a path for servers to bring cups upstairs."
Employees at Boylan Heights are calling it their "dress rehearsal" for the madness of March, when thousands of basketball fans are expected to pack into Charlottesville-area sports bars to watch the top-seeded Virginia Cavaliers take on UMBC at 9:20 Friday night and, hopefully, the winner of Creighton vs. Kansas State on Sunday.
McCabe, who's been the general manager at Boylan Heights for about a month, said Saturday night's sales tripled average Saturday revenues and the bar nearly sold out of its signature Wahoo cocktail.
"We're always prepared to party here, and still we were not prepared for that," McCabe said. "It's amazing to watch people come in as individuals and become part of this organism that is the Wahoo. After the game, we threw on 'The Good Old Song,' and it brought the house down, hundreds of voices singing at once."
Anecdotal ACC tourney-weekend sales figures like these may bode well for Charlottesville area bars during the NCAA Tournament, although hard data might pour cold water on that theory. Last year, Virginia's Thursday and Saturday tournament games brought area bars a 9 percent increase in sales and a 38 percent spike on those respective days, according to credit card transaction data mined by Womply, a San Francisco-based small-business metrics firm.
Holding the No. 1 overall seed may not push those numbers higher, either. During Villanova's two-game flameout last year, Philadelphia-based fans similarly pumped just 9 percent more revenue into bars in Round 1 and 28 percent more in Round 2.
Local bars also have another source of competition for March Madness business: The UVa Urology Clinic. Another data-mining company, AthenaInsight, found a 41 percent spike in vasectomy procedures performed by AthenaHealth network providers during the 2016 NCAA Tournament — presumably for men who would like to spend a little uninterrupted time on their couch.
"I can tell you anecdotally that it certainly picks up," said UVa urologist Dr. Ryan Smith. "I have a full vasectomy clinic [this] Friday."
While UVa does not necessarily run a March Madness special on vasectomies, "guys seek it out," Smith said.
None of that has stopped local bars from stocking their kegs and their kitchens for the anticipated waves of Wahoos.
Three Notch'd Craft Kitchen & Brewery, which prides itself on being family-friendly, has prepared for a full-court fan press — at least for the games earlier in the day. "Those 9 p.m. games eliminate most families with little kids," said co-owner Scott Roth, while bouncing his own preschool-age son on his knee.
Three Notch'd ordered 15 percent to 20 percent more food for upcoming games, and added two TVs to its sheltered outdoor area and a projector-screen to show games in the semi-enclosed area near the brewery floor.
As for beer, Roth said, "we're already producing it almost as fast as we can."
At the Draft Taproom on the Downtown Mall, Operations Manager Clay Hysell expects Blue Toad's Wahoo Orange Crush cider to be a bestseller, although he'll have on hand nearly as many self-serve taps as customers. The sports bar can seat 100; he'll have 60 beers and ciders on tap at once, along with 50 backup kegs.
Since March 5, Draft has been running a beer-bracket March Madness contest, pitting 24 mostly Virginia beers against one another in a sales competition. (Eight brews were given first-round byes.) The best-selling beer will be determined by April 2, the same day the NCAA men's champion will cut down the nets.
Twenty-one television screens at Draft will show every game during the tournament.
Draft has an "equality" sticker on its front door to welcome gay and lesbian patrons, but it also applies to fans of Duke, North Carolina and other rival species. "Hopefully, with 68 different teams in the tournament, we'll have 68 different kinds of fans," Hysell said.
Meanwhile, over at Boylan Heights, McCabe is preparing for Friday's influx of Wahoos.
"We are anticipating that the fish might drink three times their body weight during March Madness," McCabe said. Not knowing exactly how to predict or manage that primal behavior, McCabe promised simply: "The Wahoo drinks will be free flowing."